Louisiana Purchase through Early Statehood
Brothers Joel and William Plumlee are credited as the first pioneer settlers in the area where the Berryville town square is now located; they arrived there in 1832. In 1848, Blackburn Henderson Berry moved to Carroll County from Gunter's Landing in northern Alabama; in 1850, Berry purchased the Plumlees' farm and opened a store. That same year, Arthur A. Baker, previously a Carrollton (Carroll County) blacksmith, moved to the area and became a self-taught doctor.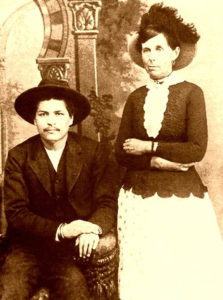 Naming Berryville
Two early settlers — Arthur Baker and Blackburn Henderson Berry — were at odds about who would get the honor of having the town named after them. It was decided that they'd flip a coin and the winner's last name would adorn the village; "Bakerville" if Arthur called it right, and "Berryville" if he didn't. Obviously, he didn't, and Mr. Berry's name lives on to this day.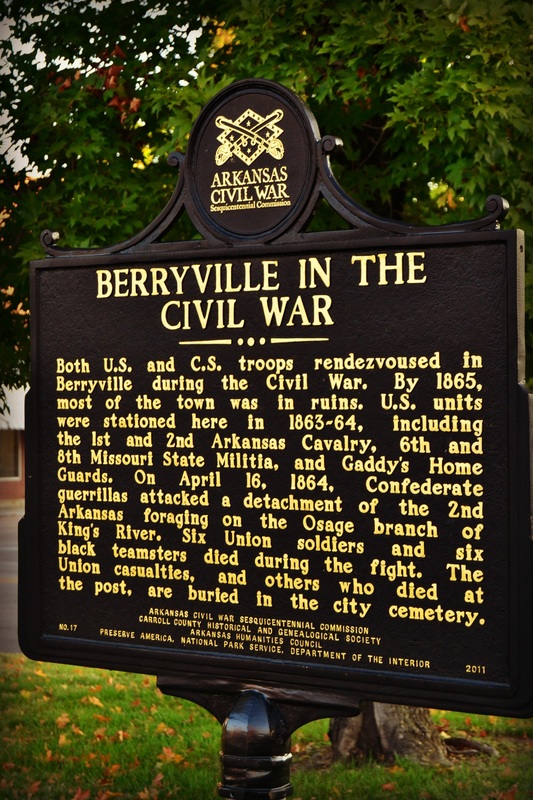 Civil War History
Following the Civil War, Berryville lay in ruins; but settlers began arriving to the community and as the years passed the city was rebuilt. On the city's historic public downtown square, Berryville's place in the war between the states is depicted with an official marker noting its darkest hour, when Confederate Soldiers ambushed Union forces near Berryville as they were foraging along the Osage branch of the Kings River, ultimately killing six Union soldiers and six black teamsters. All 12 were buried in the Berryville Memorial Cemetery situated along Bunch Springs Road in Berryville.
James Henderson Berry
Berry's nephew, James Henderson Berry, went on to become one of Berryville's most decorated and  illustrious citizens. 
At the outbreak of the American Civil War, Berry joined the Confederate Army and was commissioned as a Second Lieutenant with the 16th Arkansas Infantry Regiment. Berry lost his right leg during the Second Battle of Corinth in northern Mississippi. After recuperating from his wound he worked as a school teacher and started a private law practice.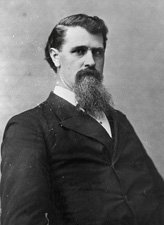 Berry was elected to the Arkansas House of Representatives in 1866. He was reelected in 1872 and in 1874. In his last term he was selected to be Speaker of the House. Berry was the chairman of the Democratic State Convention in 1876. In 1878 he became a judge for the Fourth Circuit Court and served in that post until 1882 when he was elected Governor of Arkansas.  James Berry served as Arkansas 14th Governor from January 13, 1883 to January 17, 1885.
Incorporation
The city of Berryville wasn't incorporated until after the Civil War in 1876, twenty-five years after its founding.
Economic Growth
Although the rocky soil made farming difficult here, gradually tomatoes, wheat and dairy industries came to play an important role in the town's economic development.
However, it was the poultry industry which ultimately helped boost the town's fortunes, and by the 1950s Berryville reportedly earned the title "Turkey Capital of the World." This industry has never slowed down in northwest Arkansas. One of the city's largest employers: Tyson Foods, Inc., has operated a poultry processing plant here since 1972. They have helped create a wealth of opportunities for growers, hatcheries, employees and managers.
Planning and Development
City leaders have taken a steady approach to guide the town into sustainable growth while protecting the town's "small-town" look and feel.  Today, our city has opportunities to grow and progress, while offering all citizens a safe, quality way of life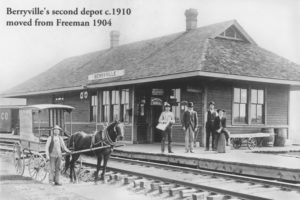 The city's historic city square is still the heart of Berryville's retail and dining destinations. Local volunteers and area artists banded together to restore the vintage advertising signs on sides of downtown buildings, adding an aura of timeless beauty and recapturing a quaint down-home feeling.  A 2022 refurbishment of the downtown square added a picturesque fountain, beautiful new gazebo, and plantings that highlight this historic center of our community.
Berryville City Square in early 1900's